A little name dropping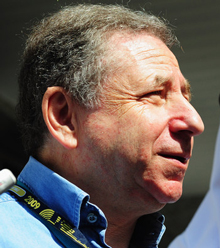 I've always rather liked Jean Todt. I followed Paris-Dakar as a journalist – as well as a driver – several times. One year I flew in the Peugeot team aircraft with Jean.
When we arrived at the point in the narrative where Ari Vatanen's (subsequently an MEP) car was "stolen", a great Keystone Cops episode began. I and a sparring partner Mike Calvin from the Torygraph were waiting in the midst of a large mob of French media poseurs at Bamako airfield when rumours began circulating.
Then I – but apparently nobody else – noticed Jean arrive, consult briefly, then turn on his heel. So I signalled Mike to follow me discretely without alerting anyone else.
As Jean jumped into a car and sped off, we leaped into the back of a battered Peugeot pick-up, saying "Suivez ça voiture la, mon chef" to the driver who happily trod on the gas in hot pursuit.
HURTLING
Clinging on like billy-oh and hurtling and dodging in and out of donkeys, goats, camels, chickens and other vehicles, we eventually came upon the stranded rally car.
Once back at the stage start, the organisers were "désolé", but Ari could not start because he was out of time. Jean unclipped the mandatory briefcase stuffed with 500-franc notes, lodged his protest accompanied by a hefty deposit, and away Ari went to force his way to the front through the dust of the 80-odd cars that had started ahead of him.
That afternoon we landed in Mauretania to await developments. A satellite dish was set up, and half a dozen of us sheltered from the blazing sun under an aircraft wing.
ABUSE
Then via a news agency came the first torrent abuse from FIA president Jean-Marie Balestre at the Place de la Concorde. "Under no circumstances should the Dakar organisers have allowed the competitor Vatanen to re-start in the rally. This is against the laws of the FIA, the motor sporting ultimate authority, and I forbid him to continue any further.
"Who does this Jean Todt think he is? Once he was a small-time navigator. Now he finds himself to be a member of the international jet set with an apartement on the Avenue Foch. He is the Napoleon of the sand dunes, the Bonaparte of the pyramids."
To which Jean retorted quick as a flash: "Better to be that than the Emperor Bokassa of the Place de la Concorde."
CHOCK-A-BLOCK
Later, while on the final approach to Dakar, part of the landing gear stuck, and we had to go around several times before the crew finally managed to get all three wheels down.
So it was dark when we landed, the airport apron was chock-a-block, and we were parked out on the far side with no transport. There was nothing for it but to heft our gear out of the hold and stagger half a mile to the terminal.
Just as we neared the building a huge six-wheeler fire engine came past and drew up at the steps. A door of the high cab was flung open, and out dropped several large bags, followed by one J Todt. "He didn't get where he is today..." thought I.
So, when Luca Cordero di Montezemolo recruited Jean to step in and sort out Scuderia Ferrari, I knew he was just the man for the job. The dream team also embraced Michael Schumacher, Ross Brawn and Rory Byrne. And, as one thing led to another, I came to spend a memorable few days in Maranello with my South African chum Allan Trim at the time of the Nürburgring GP.
BEGUILING
A quiet-spoken, unassuming fellow with a ready smile, Rory has a very special magic touch when it comes to devising really quick racing cars. So it was a particular privilege when he took us on his full personal conducted tour of the Gestione Sportiva, driving us around in a dusty Fiat diesel coupé of all things. The respecto shown to him everywhere was palpable.
"The world's most beguiling toy shop," I called it. The tweaks we saw them working on in the wind tunnel on the Friday afternoon would be on the cars – via satellite – for next morning's first practice.
That evening, we ate supper at a local ristorante – owned by the engine shop manager. "Please come to front of the queue, Signor Byrne, your table is ready." On the Sunday, we had lunch chez Byrne and Or, his delightful Thai wife, then watched the race on TV.
Moments after the finish, the 'phone rang. It was Montezemolo. "Si, Avvocato...thank you very much." Rory told us that, for several days after the end of his first championship winning season with the team, he needed police protection – from deliriously happy tifosi.
One day, he was called up to Montezemolo's office and asked to sit down. Scarcely saying a word, Montezemolo reached into a drawer for a set of keys and slid them across the desk to Rory, simply saying: "For you." Now that's respecto.