but still a family business
19th Century-style managing partnership with full
liability in the event of failure irks some investors
as outdated, but arguably fosters long-term stability
and keeps corporate raiders at bay…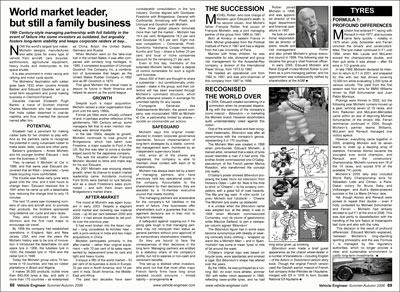 NOW the world's largest tyre maker, Michelin designs, manufactures and sells tyres for every type of vehicle from aircraft, cars, bicycles, earthmovers, agricultural equipment, heavy trucks and motorcycles to the space shuttle.
It is also prominent in motor racing and rallying and motor cycle sports.
The Michelins' fascination with rubber goes back 1832 when cousins Aristide Barbier and Édouard Daubrée set up a small farm equipment and pump making business in Clermont-Ferrand.
Daubrée married Elizabeth Pugh Barker, a niece of Scottish chemist Charles Macintosh who had discovered that India rubber dissolved in coal-tar naphtha, and thus invented the raincoat named after him.
POTENTIAL
Elizabeth had a penchant for making rubber balls for her children to play with. And so the partners came to recognise the potential in using vulcanised rubber to make seals, belts, valves and other parts.
Barbier's grandsons – André Michelin and his younger brother Édouard – took over the business in 1886.
They re-named it Michelin et Cie in 1889, and that same year Édouard discovered that air-filled – pneumatic – tyres made bicycling more comfortable.
The trouble was those early tyres were glued onto the rims, and it took hours to change them. Édouard resolved this in 1891 when he came up with a detachable tyre, reducing the change time to only 15 minutes.
The next 15 years saw increasing numbers of cars and aircraft and, to promote their products, the brothers sponsored long-distance car, cycle and aero races.
They also introduced the Guide Michelin and the first road maps to encourage car travel.
By 1908 the company had established operations in England, Italy and New Jersey, USA, and over the years the Michelin history was to be one of innovation. It introduced the detachable rim and spare tyre in 1906, the tubeless tyre in 1930, the treaded tyre in 1934 and the radial tyre in 1946.
Today the Michelin group owns 74 factories in 19 countries, and has six rubber plantations in Brazil and Nigeria.
It makes 36,000 products, builds more than 840,000 tyres a day, and sells in more than 170 countries – as widespread as China, Brazil, the United States, Germany and Russia.
When Michelin went on the take-over trail in the United States, it was after companies with similarly long heritages. In 1990, it completed acquisition of Uniroyal-Goodrich Tire Company Inc, a combination of businesses that began as the United States Rubber Company in 1892 and as BF Goodrich in 1870.
This gave Michelin the critical mass to assure its future in North America and helped its ascent up the world league.
GROWTH
Despite such a major acquisition, Michelin lacked a clear organisation blueprint until the early 1990s.
Formal job titles were virtually unheard of and, in perhaps another reflection of the gentlemanly 19th Century set-up, some managers felt that to even mention marketing was 'almost impolite'.
In the late 1990s, despite its growth, Michelin continued to lose ground to Bridgestone, which had taken over Firestone, a major supplier to Ford in the US. But this was later to prove a double-edged sword for the Japanese company.
This was the situation when François Michelin decided to retire and make way for his son Édouard.
By 2001 Michelin was enjoying steady growth, when its chance to snatch market leadership came. Accidents involving Ford SUVs were blamed on tyre failures, and as a result Firestone's sales plummeted – and with them down went Bridgestone's market share.
AFTER-MARKET
The mood at Michelin was again buoyant in early 2003. Despite a stagnant world market and rocketing raw material costs – up 40 per cent between 2000 and 2004 – it had almost doubled its net profits over the previous year.
It had even broken into the Asian market – long considered its Achilles' heel – with a joint-venture in India and two major acquisitions in China.
Michelin participates primarily in the after-market – rather than original equipment – with 70 per cent of its sales represented by replacement tyres for cars and light and heavy trucks.
It enjoys a fifth of the world market – 53 per cent of its business is done in Europe, 33 per cent in North America, and 14 per cent in Asia, South America, the Middle-East and Africa.
The past two decades have seen considerable consolidation in the tyre industry: Dunlop aligned with Goodyear, Firestone with Bridgestone, General with Continental, Armstrong with Pirelli, and Uniroyal and Goodrich with Michelin.
Now three global players dominate more than half the market – Michelin has 19.4 per cent, Bridgestone 18.2 per cent and Goodyear 16.5 per cent. Eight mid-size competitors – Continental, Pirelli, Sumitomo, Yokohama, Cooper, Hankook, Kumho and Toyo – share a further 25 per cent, and local or niche companies account for the remaining 21 per cent.
Even to this day, members of the extended Michelin family retain a degree of control remarkable for such a significant business.
About 500 of them are thought to share a substantial – but constitutionally undisclosed – stake in the group, and their collective will has been exercised through Michelin's command structure, which affords extensive powers in exchange for unlimited liability for any losses.
Compagnie Générale des Etablissements Michelin, the parent company, was incorporated 1889 as Michelin et Cie, a partnership limited by shares – société en commandite par actions.
SAFEGUARD
Michelin says this original model, attuned to modern corporate governance standards, favours implementation of long-term strategies by a stable, committed management team, monitored by an independent supervisory board.
And, since all of the shares are registered, the company is able to maintain close contact with each of its shareholders.
Michelin has always been led by a team of managing partners, who have previously held key operational posts in the company. Accountable to the shareholders for their decisions, they are assisted by a 10-member executive council that meets monthly.
The managing partners are answerable for the company's full liabilities in the event of failure. Few businesses offer shareholders such a guarantee that management decisions are in their mid- to long-term interests.
A safeguard against copping-out if the going gets tough is that managing partners may not relinquish their status as general partners without prior approval of an extraordinary shareholders' meeting.
So they are bound to face the consequences of their decisions in the long term. Managing partners are entitled to a statutory share of the company's profits, but not to salaries or non-cash and retirement benefits
This set-up is disliked other investors, who point out that that most other major French family firms have long since adopted société anonyme – limited liability – arrangements l