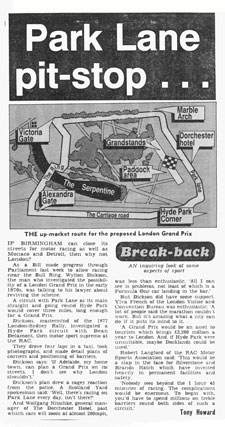 Break-back
An inquiring look
at some
aspects of sport
IF BIRMINGHAM can close its streets for motor racing as well as Monaco and Detroit, then why not London?
As a Bill made progress through Parliament last week to allow racing near the Bull Ring, Wylton Dickson, the man who investigated the possibility of a London Grand Prix in the early 1970s, was talking to his lawyer about reviving the scheme.
A circuit with Park Lane as its main straight and going round Hyde Park would cover three miles, long enough for a Grand `Prix.
Dickson mastermind of the 1977 London-Sydney Rally, investigated a Hyde Park circuit with Dean Delamont, then motor sport supremo at the RAC.
They drove four laps in a taxi, took photographs, and made detail plans of corners and positioning of barriers.
Dickson says: 'If Adelaide, my home town, can plan a Grand Prix on its streets. I don't see why London shouldn't.'
Dickson's plan drew a cagey reaction from the police. A Scotland Yard spokesman said: 'Well, there's racing on Park Lane every day, isn't there?'
And Wolfgang Nitschke, general manager of The Dorchester Hotel, past which cars will zoom at almost 200mph, was less than enthusiastic. 'All I can see is problems, not least of which is a Formula One car landing in the bar.'
But Dickson did have some support. Ylva French of the London Visitor and Convention Bureau was enthusiastic. 'A lot of people said the marathon couldn't work. But it's amazing what a city can do if it puts its mind to it.
'A Grand Prix would be an asset to tourism, which brings £3,200 million a year to London. And, if Hyde Park were unsuitable, maybe Docklands could be used.'
Robert Langford of the RAC Motor Sports Association said: 'This would be a slap in the face for Silverstone and Brands Hatch which have invested heavily in permanent facilities and safety.
'Nobody sees beyond the 1 hour 45 minutes of racing. The complications would be enormous. To begin with, you'd have to spend millions on treble barriers round both sides of such a circuit.'