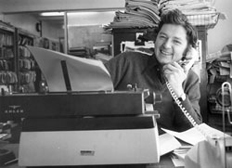 If you're wondering, yes, that is
a 'trypeswiper' in the picture.
www.wordspix.co.uk is the showcase for my endeavours, and does what it says on the tin.
Get straight to the point by clicking one of the links below:
WRITING INDEX published journalism...
PHOTO INDEX people, events, places, wild life...
For experience and know-how, see the MAIN INDEX menu at left...
Contact me at info@wordspix.co.uk
"Begin at the beginning,
and go on till you come
to the end: then stop."
THE KING'S advice in Lewis Carroll's Alice in Wonderland is as fresh now as when it was first published in 1865.
So, too, is the counsel to a young Anthony Howard: "Why, hell, you gotta write it so tight no so-and-so can muck around with it." Or words to that effect.
Good pointers for a life in national newspapers, magazines, radio, television and corporate communications.
Today, he blends computer literacy with traditional writing know-how to create clear-sighted, effective editorial solutions.
These range from entertaining, informative features and lively publications to web content and presentations.
In addition to his mainstream media
work, Howard has assisted advertising and PR agencies, for example with new-business pitches, presentations, news releases, brochures, annual reports and web sites.
His experience embraces media relations, events, conferences, sponsorship, financial PR and on-event news services in Britain, on the Continent and in Africa.
For instance, he helped to organise the Daily Mirror's 'Wider Europe' conference to foster leading European editors' enthusiasm for Britain's entry into the EU.
He has written full PR programmes, for example to help a Middle East government improve its international relations (this included a briefing paper for a Chatham House conference), and to promote security software for IBM A/S 400 computers.
Case histories, a Writing Index and Photo Index offer a flavour of Howard's diverse experience and its benefits...